Falkenstein Grand
Stay
Built in 1909 by German Emperor Wilhelm II, the ensemble of villas today houses 112 rooms, suites and apartments and a unique penthouse. Discover our choice of offers.
Falkenstein Grand
Our rooms
Slept well
Deluxe Room
Enjoy the room's space, glance through the window at the wonderful natural surrounds, and recoup lost energy. Warm colour schemes, soft design lines and individual services such as our pillow service assure a sound basis. See for yourself and savour the moment.
Relaxed
Grand Deluxe Room
Well balanced with separate living and sleeping areas, and with all useful, attractive and healthy travel accessories equipped. The rooms in our Grand Deluxe category fulfil these promises entirely, guaranteeing a revitalising stay in the Taunus' healthy climate zone. We'll always be happy to fulfil any individual wishes.
Check it out
Classic Double Room
Arrive, check in and feel at ease. With our rooms of the Classic Double Room category this feeling is of course also guaranteed. The room's floor-to-ceiling windows and the gentle alternation of beige and red tones quickly allow the desired peace and quiet to return, ensuring a lasting experience above the rooftops of Frankfurt am Main.
Very private
Classic Single Room
Those travelling alone, for instance on business, should at the very least encounter a charming room with a feel-good atmosphere and an excellent bed by the time evening comes around. Thus allowing your batteries to be recharged so that you can start the next day full of energy. The Classic Single Room category is perfect for this.
Falkenstein Grand
Our suites
Regenerating
Grand Deluxe Suite
Elegant, self-contained and with just the right esprit to enjoy a wonderful time together in the green heart of Germany. In the Grand Deluxe Suite category, living simply gives pleasure and offers numerous facets to fully enjoy a room and its atmosphere in a variety of ways.
Easy-going
Classic King Suite
Leave the world to itself for a while. Reflect a little with a cup of tea or a good book and feel perfectly at ease. Our hotel's Classic King Suite category offers the perfect setting for this. Come in, free yourself of everything and savour a few precious hours away from the bustle.
Together
Classic Family Suite
Travelling together with the whole "entourage" gives a lot of joy and pleasure. But it is also certainly not easy to do justice to everyone and always. Far away from home, in combination with the individual offers of Falkenstein Grand for both grown-ups and children, the Classic Family Suite of our hotel offers the necessary privacy for everyone.
Falkenstein Grand
Our Apart­ments
Are you planning to stay longer in the region, are you looking for a house or a suitable apartment? In the vibrant business metropolis of the Rhine-Main region, this is not uncommon. Falkenstein Grand in Koenigstein/ Tanus offers exactly the right option for this as well. The different sizes of our apartments allow us to fully meet individual needs. A convenient location, security, international schools and kindergartens in the vicinity, as well as the use of our services or the fitness and spa area with its year-round heated outdoor pool. Get in touch with us and let us advise you. We know what you need to know!
Stay long, stay fresh.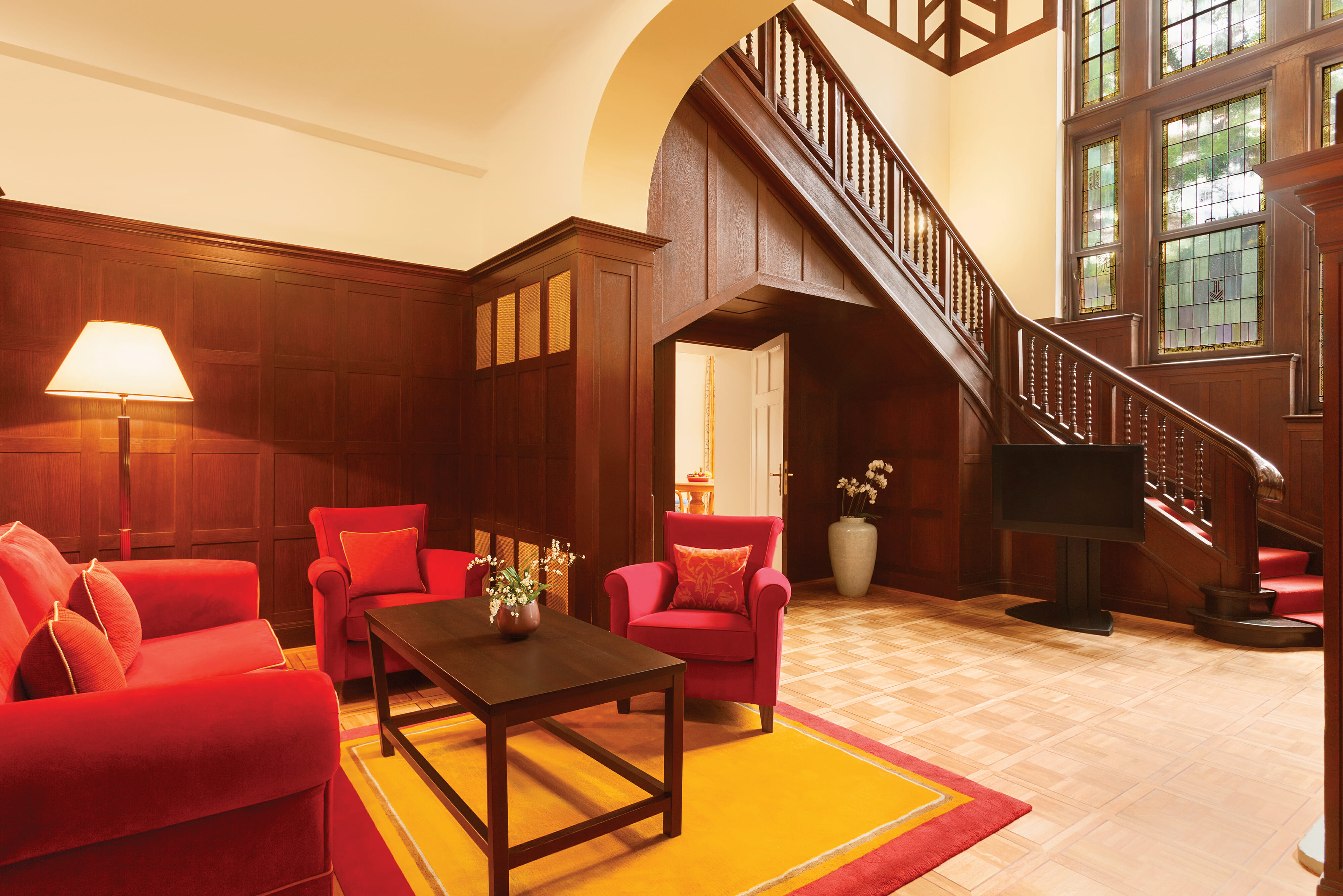 Falkenstein Grand
Penthouse
In the heart of Germany and the immediate vicinity of Frankfurt International Airport and Europe's financial metropolis, Falkenstein Grand in Koenigstein/Taunus offers an extravagant and incomparable lifestyle in an exclusive atmosphere. The penthouse, located on the highest floor of the hotel, meets the highest expectations with a unique luxury sphere, inimitable design and perfectly coordinated living culture for an international clientele.
Penthouse Master Suite
A living room that can be used for an effective dinner for high-ranking guests, a separate media room with Dolby Surround Sound, a library as a retreat for exquisite hours, the own sauna and an outdoor whirlpool that puts Frankfurt at your feet. The Master Suite in our penthouse offers visitors a spatial experience of extraordinary expanse and the highest quality materials, making living an exclusive experience.
Inspiring flair
Penthouse Junior Suite
Outstanding flair, wonderfully presented and separated into living and sleeping areas with an extraordinary sleeping atmosphere for special demands. With an incomparable view of the harmonious slopes of the Taunus Forest and an interior in soft green and noble gold tones, the Junior Suite of the penthouse captivates with a fascinating symbiosis of top-class artistic elements such as handmade silk wallpaper in Feng Shui style.
4 you
Penthouse Family Suite
A concept, well thought-out down to the tiniest detail, the combination of two extraordinary spatial experiences enables the creation of a Family Suite consisting of the skyline room and a Deluxe Room in the penthouse of Falkenstein Grand. With the Family Suite, a separate living area is created on the top floor with access to a superbly staged lounge area on the 360° Skyline Terrace.
Where living touches the sky
Penthouse exklusiv
With 500 m² individual suite concept on the top floor, which perfectly combines five individual living rooms into a unique whole. The penthouse not only stands out in the interior design, but also offers breathtaking views of a fascinating skyline of Frankfurt's Main metropolis with its 360° terrace.
Pure well-being
Penthouse Deluxe Room
Deluxe Rooms with the finest interiors and direct access to the unique 360° penthouse terrace are ideal for the penthouse of Falkenstein Grand. Silk wallpapers of the most extraordinary craftsmanship characterise the excellent spatial experience and transport the outstanding passion with which they were created to the living experience for a perfect hotel stay far above the rooftops of Frankfurt am Main.